Planning of fish lift and the fish lift sluice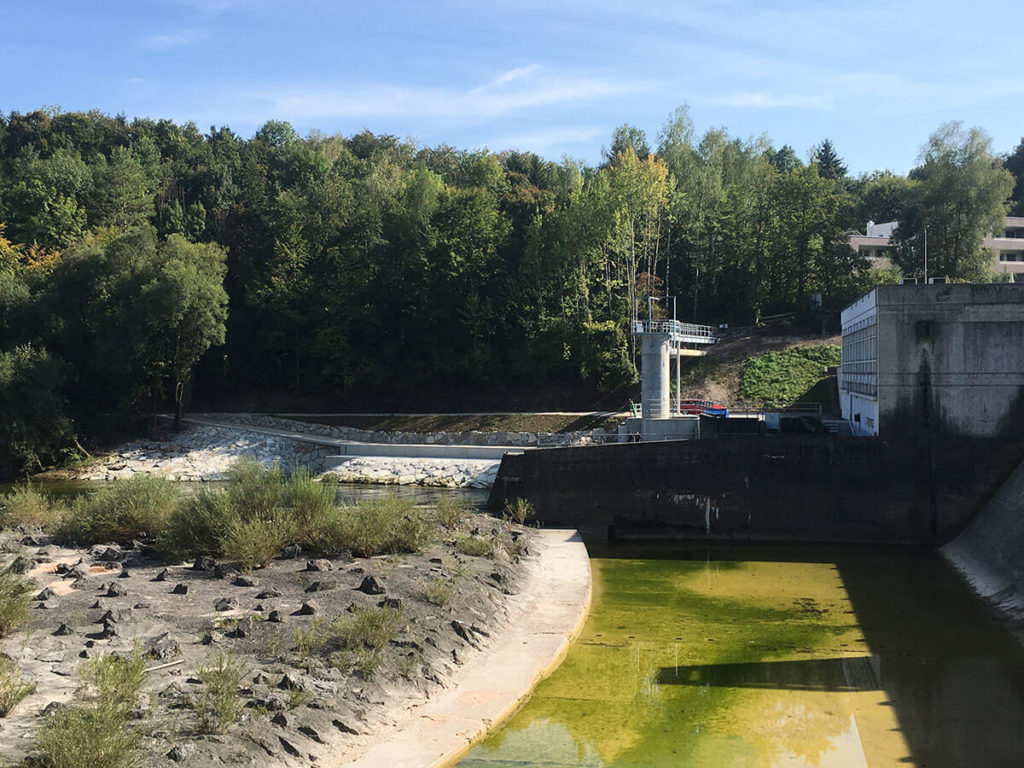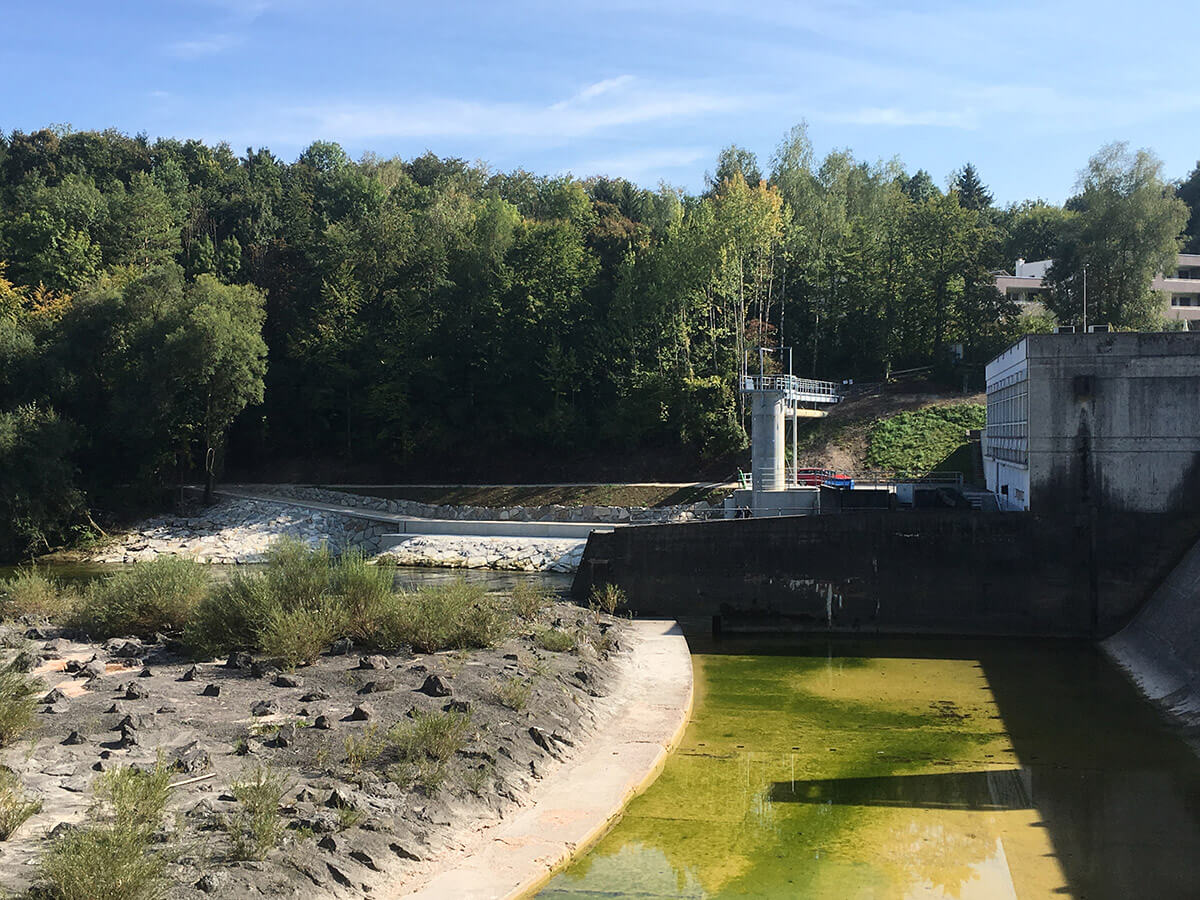 Planning of fish lift and the fish lift sluice
Where state-of-the-art solutions reach their limits, a special solution must be sought for fish migration. The fish lift and fish lift sluice on the principle of "Der Wasserwirt" offers the possibility to implement a fish ladder even in confined spaces.
Areas of application and advantages of the system:
Little need for space

Applicable for fluctuating upstream and downstream level

Small power plants and MQ <1,000 l/s

Good monitoring option by means of control

Low

Maintenance

Comparably mean investment costs and operational costs
You can request more information about the fish lift and the fish lift sluice at office@der-wasserwirt.at. We can provide presentations and reports in various languages.
Fischregion

Maßgebende Fischart

empfohlener Schachtinnendurchmesser bei Höhen OW-UW bis 6 m

empfohlener Schachtinnendurchmesser bei Höhen OW-UW ab 6 m

Mindestwassertiefe im Schacht (ab OK Lochblech)

Einstiegsöffnung und Ausstiegsöffnung (Ausnahme runde Ausführung mit Rohrleitung ins OW)BxHSchieber kann wegen Fischschutzvorrichtung nicht zu 100% geöffnet werden, deshalb muss Öffnungshöhe bei Planung +10 cm betragen

Hübe pro Stunde

Epirhithral, MQ <2m³/s

Bachforelle 30 cm

1,0 m

2,0 m

30 cm

20x30 cm

3

Epirhithral, MQ >2m³/s

Bachforelle 40 cm

1,0 m

2,0 m

40 cm

20x40 cm

3

Metarhithral, MQ<2m³/s

Bachforelle 40 cm

1,0 m

2,0 m

40 cm

20x40 cm

3

Metarhithral, MQ >2m³/s

Äsche, Bachforelle 50 cm

1,0 m

2,0 m

50 cm

30x50 cm

3

Hyporhithral klein, MQ <2m³/s

Äsche, Aitel, Aalrutte 50 cm

1,5 m

2 m

50 cm

30x50 cm

3

Hyporhithral groß, MQ >2m³/s mit Barbe

Aalrutte, Barbe 60 cm

1,5 m

2,0 m

50 cm

40x50 cm

3

Hyporhithral, MQ=2-20m³/s mit Huchen

Huchen 80 cm

2,0 m

2,0 m

60 cm

50x60 cm

2

Hyporhithral groß, MQ>20m³/s mit Huchen

Huchen 100 cm

2,0 m

2,0 m

70 cm

50x70 cm

2

Epipotamal mittel mit Barbe

Barbe 60 cm

1,5 m

2,0 m

60 cm

50x60 cm

3

Epipotamal mittel mit Hecht

Hecht 90 cm

2,0 m

2,0 m

70 cm

50x40 cm

2

Epipotamal mittel mit Huchen

Huchen 90 cm

2,0 m

2,0 m

70 cm

50x40 cm

2

Epipotamal groß mit Huchen

Huchen 100 cm

2,0 m

2,0 m

80 cm

60x50 cm

2

Epipotamal groß mit Wels

Wels 120 cm

2,0 m

2,0 m

100 cm

70x100 cm

2

Seezubringer und Seeausrinne

Seeforelle 90 cm

2,0 m

2,0 m

70 cm

50x40 cm

2

Gründlings- und Schmerlenbach

Aitel 40 cm

2,0 m

2,0 m

50 cm

30x50 cm

2